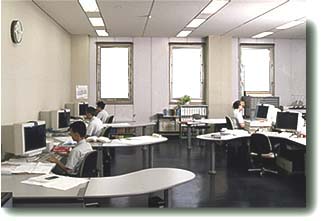 Production system consistent from design to production and aftersales service.
Today, in the trend of fast mechanization and automation, the establishment of more efficient and higher-precision production systems is demanded. We have constructed our production line focusing on labor-saving and improved efficiency to answer users' severe demands for quality, delivery, and cost.
We are always trying to produce advanced products.
Accompanying increased diversification and advancement, now is the time of "many-types and small-quantity production." Then, production capability that can meet the needs of the times quickly and flexibly is required. We are trying to embody our excellent technology by means of introducing three-dimensional CAD, as well as by establishing a new and powerful system based on on-line CAD, CAM, and MC, in order to enhance our productivity throughout.